A Few Words from Dr. Keil About KVO
Welcome to Keil Veterinary Ophthalmology (KVO)! This adventure officially began on April 3, 2012. After twelve years of working at a multi-specialty practice, I decided to start my own clinic. My extensive and supportive small animal and equine clientele made the decision to start my own business an easy and exciting one.
My commitment to the KC metro is uniquely driven by being the only locally owned veterinary ophthalmology specialty service in the area. My vision of providing compassionate, state-of-the-art veterinary ophthalmology is focused both on my patient and my patient's two-legged friend. KVO isn't just about animal eye care – it's about your animal's eye care.
I am dedicated to the long-term future of KVO and its continual evolution. Every animal is deserving of vision and comfortable ocular health.
Dr. Susan Keil
Susan Keil was born and raised in Aberdeen, South Dakota. She received her Bachelor of Science degree from the College of Biological Sciences at the University of Minnesota in 1989. She then attended the College of Veterinary Medicine, also at the University of Minnesota, graduating in 1993. Dr. Keil stayed on for one year at the U of MN veterinary college for a small animal rotating medicine and surgery internship. Following that she worked for a private practice ophthalmologist, a multi-specialty practice, and a general practice in the Minneapolis-St. Paul area for a few years.
Dr. Keil completed a three-year veterinary ophthalmology residency at Kansas State University from 1996-1999. Additionally, she earned a Master's Degree in Veterinary Clinical Medicine during that time. She is a board-certified Diplomate of the American College of Veterinary Ophthalmology. She worked at a multi-specialty practice in Mission, KS from 1999 until 2011. She started Keil Veterinary Ophthalmology in 2012. She is a member of the American Veterinary Medical Association, the Kansas Medical Veterinary Medical Association, and the Society of Phi Zeta veterinary honor society.
Dr. Keil specializes in medical and surgical diseases of the eyelids, cornea, lens, uveal tract, and retina. She has been performing the very technical, visually rewarding surgery of cataract-removal for 25 years. Some of the more common presenting conditions include keratoconjunctivitis sicca (dry eye), glaucoma, corneal ulcers, intraocular neoplasia, cataracts, and ocular manifestations of systemic disease (infectious, neoplastic, and immune-mediated). While dogs are our most common patients, the practice is balanced by treating many horses and cats as well.
Dr. Keil and her husband both grew up in the Midwest and have been Kansans since 1996. They are happy here and proud to be part of the community. They enjoy their outdoor life on a small hobby farm, taking care of the cats, dogs, horses, and abundant bird life. Dr. Keil is passionate about dressage riding, her dogs, and the outdoors. She belongs to the Kansas City Dressage Society.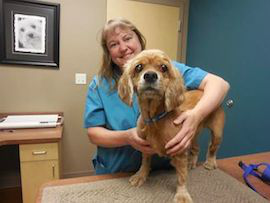 Wendy, RVT
Wendy was raised on a small farm in the Kansas City area. Her love for science and animals led her to veterinary medicine at an early age. She started working for a multi-doctor general practice hospital in 1984 as a receptionist. She graduated from Kansas State University in 1990 with a Bachelor of Science degree in Animal Science. After working as a veterinary assistant for many years, she went back to school to become a Registered Veterinary Technician. When not at work, she and Paul enjoy spending time on their small farm. They have 3 horses, 1 donkey, 4 goats, 3 dogs, many chickens, a barn cat, and a leopard gecko.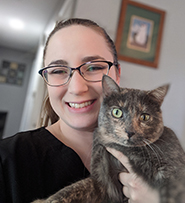 Kate, RVT
Kate, along with her spouse and rescued fur babies, recently moved to the Kansas City area from Wichita. Their family includes four cats and two Dobermans. Kate graduated in 2019 with her Associate degree in veterinary technology, and she became a registered technician in January 2020. In her free time, Kate and her spouse enjoy going to the lake, spending time with their animals, fostering cats, and working on various projects around the house.
Back to Team List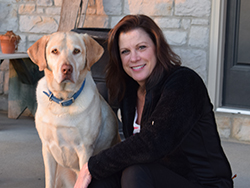 Audrey, VA
Audrey joined the KVO team in August of 2015. Audrey was born and raised in Kansas and attended Kansas State University. She and her husband live in southern Johnson County on 10 acres and have two grown children. Audrey's hobbies include gardening, hiking, and traveling.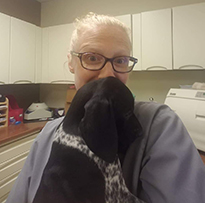 Randi, VA
Randi joined KVO in June 2019. She lives in Kearney, MO (Go, Bulldogs!) with her husband Jake and their two children, Abram and Marlee. Randi has a love for smooshy-faced dogs and has two Boston Terriers and a Pug-Pekingese mix. When not at work she spends her free time running her kids to all their extracurricular activities, which she loves.
Randi was a veterinary assistant many years ago. After having children, she decided to offer in-home childcare/preschool. Now that her children are entering middle school, she's decided to get back to pursuing her dreams and working in the veterinary field.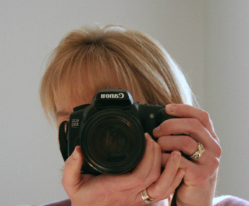 Steph
Steph is a native Kansan and lives off the beaten path with her husband and two canine kids. She attended Kansas State University and joined KVO in 2012 after working for 14 years in administration at a multi-specialty/emergency veterinary practice. She enjoys gardening, hiking, and photography.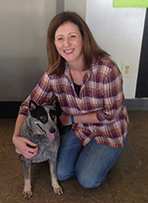 Carrie
Carrie joined the KVO team in February of 2019 from another local veterinary clinic/shelter. Born and raised in the Kansas City area, she lives in Johnson County with her rescue dog AJ. She enjoys spending time with family and friends, traveling, and volunteering with local animal rescue organizations.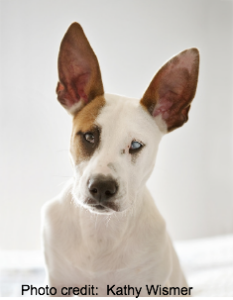 Mojo
This adorable All American Dog survived the devastating F5 May 2011 Joplin, MO tornado as a pup. His lovable personality, abnormal corneas, and fantastic ears screamed "Adopt Me!". Since MoJo is defined as a magical charm, or one with a magical power, the name seemed the perfect twist to honor his survival of the chaotic destruction of Joplin. MoJo's positive, energetic karma has made him the mascot of KVO!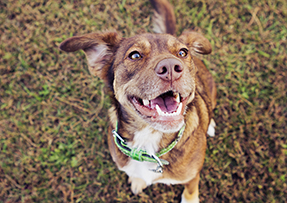 Magic
Beautiful Magic was rescued out of the Olathe Animal Shelter and joined the clinic staff in December, 2014. According to the Wisdom genetic dog panel she is part Beagle, Foxhound, Dalmation, and Weimaraner. Wow! We know her as a package of love, kindness, and a dash of shyness wrapped in a soft auburn coat. When she is happy, she bounces her butt! She digs her rawhides. The only problem about being a KVO employee – the car ride to get to the clinic. She believes in telemedicine.
Noble Iris Ann
After 25 years of planning, and 11 months of gestation, the Keil family finally had a baby. Iris, a bay filly with three socks and a star, was born 4.15.2018. She weighed 90 pounds and took one hour to stand beside her mom. She is hilarious, kind, opinionated, and too inquisitive. She problematically opens doors, latches, and gates. She plays with balls of all sizes, loves to have her belly scratched, and wants to be your best friend. She will run around the pasture for the pure joy of just running around the pasture. She can be sassy; she gets into trouble. Her name is after her sire (Noble), her mother (Ann), and her human mother's profession (Iris:  a flat, colored, ring-shaped ocular structure with an adjustable circular pupil; and it's also a really pretty flower!). The hope is she will stop growing soon (16.1 hands on her second birthday), always behave in the dressage ring, and never, ever toss her rider off at any point in the future.
(Below: Iris at three days, three weeks, four months, and 18 months. Photo credits:  Kathy Wismer.)